"They demand us to struggle and to invent a Europe of solidarity, overcoming the deathly migration regime."
When we came together on Sunday in the harbour of Thermi to remember the dead of the European border regime, we could not know what would happen only shortly afterwards again: that people would lose their lives, when a fire broke out and many containers burnt down inside Moria camp.
http://lesvos.w2eu.net/2019/09/30/this-was-not-an-accident/
Faride Tajik, an afghan mother lost her life. Whether she died together with her child is still unclear.
It was no surprise and no accident, it is not the first time and not the last time. This cruel system of deterrence and blocking of the European migration regime killed them. We face again the cruelty and the deadliness of this border regime in these days. On Tuesday 24 September, during the memorial in Korakas , we learned that a 5-year-old boy had lost his life when he was run-over by a truck in front of the hot-spot Moria. On Friday 27 September a boat was sinking close to Chios and 7 people, among them two children lost their lives.
On Sunday, when several containers already burned in a huge fire with a lot of smoke, those imprisoned and locked in the closed sector of the camp, started in panic to try to break the doors – and the response of the police was throwing tear-gas to add it to the smoke to a toxic mix.
The spontaneous speech Kashef held in the end of the memorial can be seen in a way as a comment on this before we all knew it.
We came together here in the harbour of Thermi for remembering the dead of the European border regime.
Together with family members and friends of missing people we started to build memorials, first in Korakas on Lesvos, then in Evros, later again on Lesvos. We wanted to build a space where we can mourn for a certain time with the relatives and show our concern and anger about these lives lost. Lost because European politicians are not willing to find solutions in human ways to welcome fleeing people. Now we look back at 10 years during which we remembered all these human lives, lost for nothing.
We wish that such memorials don't have to exist anymore, that people don't lose their lives senselessly crossing borders.
The memorial in Thermi was destroyed in August 2018 by fascists who proudly announced it in an anonymous phone call to a local newspaper. But destroying a memorial cannot erase the memories of the people and we will continue building memorials and keeping the names
Since we started to remember here in Thermi in 2013 every year we had to come back. Every year the death by the border regime continued. Every year we came and we renewed the promise not to give up until the killing stops.
Sylvie who survived when a boat was sinking in the North of Lesvos on 23rd of April 2017 was with us in the memorial again – it was the third time she commemorated together with us. Sylvie and another woman from Congo who was 8-months pregnant had drifted for many hours in the sea until they where finally rescued. Sylvie held a speech in the memorial and she spoke also during the festival the day before about her experience. The main message of her speech: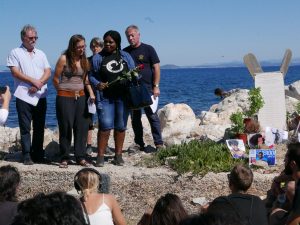 "When I was in the water for so long, I just believed that I would survive. It was this strong belief that helped me to hold on for so long until rescue finally came. I want to share with all of you that there is hope to survive, even in the hardest moment and I want to encourage all those who suffer not to stop to believe that there will be a way."
Baris a Kurdish Violin player who was in Belgium before and had returned to Istanbul was on the same boat sinking on which only Sylvie and Joelle survived. When he had asked for a visa to continue his studies in Belgium and continue playing with his music group in Gent, he was refused the visa. Because of this, he was obliged to try the dangerous way through the sea to get back to Belgium.
His body was found embracing his violin case. His family has buried him in Istanbul. His music friends in Belgium played a Kurdish song in his memory that we want to share. In Baris memory and for all humans who lost their lives trying to reach a safer life in Europe. We will never give up remembering all these lives lost on the European borders.
video by Ehab Onan
Since the EU-Turkey-deal in March 2016 the European border-regime caused death also in the "hot-spots" on the Aegean islands. In 2019 again we are aware about people who died in the sea and caused by the inhumanity of the living conditions.
We remember today Jean-Paul Abouateng, 24 years old from Cameroun. A radio-journalist and father of a baby. He died in January this year in the hot-spot Moria during the cold season.
In April 2019 the family of a nine-year-old afghan girl, missing near the shore of Lesvos, searched with many people for weeks the beaches until she was found dead.
In June 2019 a boat with people from Cameroun and Congo sank near Lesvos, nine people died, among them two little girls.
We remember today:
Nadege
Patcheko Konkoudi
Cele Nsanga Tesi
Astrid Onya
Orsitte Siladio
Linda Siladio
Fatima Ngali
In August 2019 a 15-year-old Afghan minor was killed during a violent fight among minors inside the so-called "safe space" in the hot-spot Moria. He was travelling with his two younger brothers to join their family in Europe.
On Tuesday, while we were down in Korakas to renew the memorial there, we learned about a 5-year-old afghan boy, who just died being run-over by a truck in front of Moria, when he played inside a cardboard. Only a few days after authorities have shut down the kindergarden of "teamhumanity" were hundreds of children had played safely before.
This Europe is not safe, human rights and refugee rights have lost all relevance! The victims ask the ones alive to take action against this Europe of Frontex – borders and walls. They demand us to struggle and to invent a Europe of solidarity, overcoming the deathly migration regime.
We invite you to have a moment of silence together with us – and then to move on: to tear down the borders and to build another, a welcoming Europe.