ART WORKS made by refugee young women living in the Camp Ritsona, are exhibited in the Town hall of the city of Chalkida.
You can contact Fariba and Fershta Amiri through our Email: lesvos.w2eu[at]yahoo.gr.
. .when it's about violance i close my eyes and think about injustice to keep a strong painting and sometimes when i'm thinking about past life, my images tell me, to keep alive everything that bother me through paintings.
Fareshta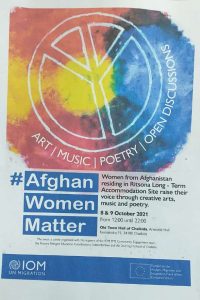 Although the young people finally are aloud to join the Greek school in Chalkida, there is no bus or other transport for them to get over the 20 kilometers distance between the camp and the city of Chalkida. So they unfortunately, although they have the right to go to school, are obliged to stay in the camp.
I have different plans and dreams about my future, definitely. One of them is to become the best football player, as I am right a player right now. And beside of that to improve my art and continue my lessons
Fariba
Fariba Amiri and Fereshte Amiri will show their Art in the exhibition. Find Faribas Art-Gallery here and Fereshtas Art-Gallery here.
Painting, drawing, writing poems and other creative ways are their expression of their feelings and the comments of their situation.
We wish all of them to be fast part of the Greek society and live among the Greek people or enjoy their freedom of movement.
They should follow their art, that from now on, is traveling around the world not being stopped by any kind of borders or walls.
…my images tell me, to keep alive….