In October 2013 we traveled togeth­er to Lesvos. Welcome to Europe and Youth without Borders organized our get-together: young people who ar­rived in Greece in 2008/2009 and succeeded in fighting for their right to stay in Germany and Sweden re­turned to their place of arrival in Eu­rope.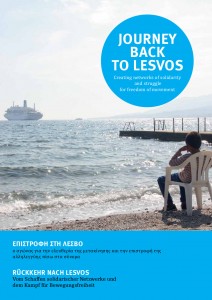 For many of the young people the past two weeks have been special:

For the ones who had arrived in Lesvos some years ago and have reached other EU-countries and built their lives there.
For the ones who are fighting for their rights and the rights of all others in Germany and elsewhere.
For the ones who have newly arrived on Lesvos and are currently trying to find a way out from Greece.

We wish all of them a safe and good journey!
Dear people in Mitilini,
we have left the island – many of us with the feeling of having left a place where we all felt at home somehow. This feeling is mainly dedicated to all of you: without you this journey back to the border would have never been possible! We want to thank all of you. We will never forget the warm welcome you gave to us. We left with the feeling of a great experience and with a lot of strength for all coming struggles.
We left also with worries for all those we had to leave behind. Continue reading ..
Program of the first Journey back to the borders | Oktober 2013
Tuesday, 8th October
Conversation with the press for journalists and other people interested. At the building of EPA Aegaiou, E.Bostani 69, Mitilini
Exhibition opening in ERGATIKH LESXH, Mitilini: Thank you to the people who saved our lives!
Wednesday, 9th of October
Thursday, 10th of October
Workshop on w2eu.info.
Welcome to Europe party on the beach of Tsamakia
Friday, 11th of October
EPIMELITIRIO -P.Kountourioti 71, Mitilini Traces from Lesvos through Europe "Respect only with passport? – Muhajer Tour is back"

Saturday, 12th of October
Delegation to Moria – we apply to allow a delegation of us to enter the newly built prison in Moria. We invite the population of Lesvos to go together to see if the detention camp in Moria looks like a welcome center or reminds us on Pagani, the former prison that was closed down after our struggles from inside and outside.
Memorial in Thermi: We want to construct and inaugurate a memorial fountain to remind not only of the deaths of the December 2012 tragedy whose bodies were found in Thermi, but also of all others who have died on their road to Europe. Shortly after the biggest tragedy with hundreds of deaths close to the Italian island Lampedusa we will hold a ceremony to honour the dead. We will give a promise to continue the struggle against this senseless killing.

Sunday, 13th of October
Working groups on the beach of Tsamakia on different topics
Manifestation in Mytilene – to protest for registration
without detention!
.