Memorial in Korakas – 24.September 2019
When we walk down to Korakas' lighthouse the sky is cloudy. Already from up you can see the colours of life-vests, probably from the last landings tonight and yesterday. We find leftovers that create a feeling as if there are still many more people with us. Those who continued to go towards their destinations and those whose journey ended here and their voices were silenced by the sea. Tonight 335 newcomers on nine boats arrived safely on the island – seven of the boats here in the north, with many very small children on them, picked one by one by the friends who are constantly here assisting in rescues and landings.
Together we renew the memorial we had set up here 9 years ago when we came with little Marila and her parents in October 2010. We remembered together with them the night on 27 October 2009, when they had been on a boat together with Afghan women, their small children and some minors. Short before landing at Korakas, the boat turned over and all people fell in the sea. Yalda (8), Neda (10), Mehdi (4), Zakia, Tsima, Sonia (6), Abdulfasl (3) and Zomaya lost their lives. The baby Marila and her parents were rescued by Stratis, a brave fishermen who jumped into the water to save them. One year later they came together to meet again. And we put this memorial on the lighthouse to commemorate.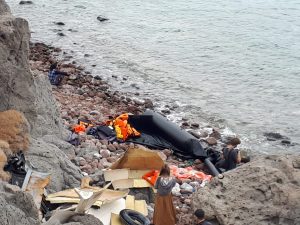 Now we came back – most of us not the first time since 2010. So the air is also full of memories of the time in between, in 2015 and 2016 when so many people climbed up this road and went on to reach other places in Europe. Also Marila and her family finally arrived in Sweden.
We renewed the memorial, where the names within 9 years in the hot summer sun and the sea-salt had nearly become invisible to bring them back into the memories. We then read out a text of Khaled Hosseini, a letter of a father to his son. He wrote it after the picture of small Alan Kurdi went around the world on 2nd of September 2015. He dedicated it to all the families torn apart when forced to flee and to all those who lost their lives at sea.
Continue reading

"The sea should know this."