In October we, Welcome to Europe (W2EU) and Youth Without Borders, return again to Lesvos to the place of our first encounters, our first arrivals to Europe, the place that reflects the current EU border regime like no other. Many things have changed since our last "Journey back to the Border": the infamous EU-Turkey deal has "helped" to decrease the numbers of arrivals of boats drastically compared to "the long summer of migration 2015". Moria has been transformed into a "hotspot" with an immense number of NGOs providing their visions of humanitarian and financial aid.
The next week we want to inform on this blog about our actions on the island. It is especially for all those from our group who were not able to join the "Journey back to the Border" of this year.
You are here with us in our thoughts!!
19th of October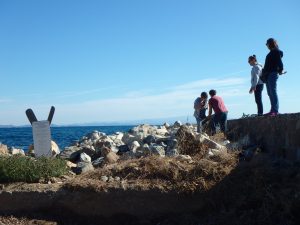 After days of preparation we started on Wednesday with visiting our Memorial in Thermi that we set up in 2013. The memorial commemorates 27 people that drowned in 2012 representing all the people that lost their lives at the border of Fortress Europe. We wanted to renew the stone to resist the harsh weather conditions of the Sea. First, we cleaned the place and met with local people to discuss the materials, design and ways how to maintain this place in the future. Then, we planned a ceremony that we want to hold on Monday to commemorate the ongoing death in the Mediterranean.
Continue reading Journey Back to the Border 2016 on Lesvos – Part I →