– Press release of Welcome to Europe –
19th September 2014
Mayor of Mitilini wants to close down self-organised Welcome Center for Refugees
This week the mayor of Mitilini, Mr. Galinos announced to close down Pikpa, the self-organised Welcome Center for refugees on Lesvos by the end of September. Since 2012, Pikpa is run by volunteers from the local initiative "Village of all together".
In the night from 18th to 19th of September, a military ship transported an unknown number of refugees from the prison close to the village of Moria to an unknown destiny – most probably to one of the big camps on the Greek mainland, where they will have to face long periods of detention, officially up to 18 months but in practice sometimes even longer.
The announcement of mayor Galinos perfectly mirrors this situation. We read it as an announcement to not learn from the history of Lesvos island. To not learn from the hardships refugees had to go through in Pagani, a prison also known as "Dantes inferno". To not learn from the struggles that had led to its closure. And to not learn from the two years of encouraging experiences made in running a real Welcome Center at the gates of Europe.

To not learn means to continue the criminalisation of people who fled from war and terror just to save their lives. It means to continue to "welcome" them with "reception centers" that resemble Guantanamo prisons, such as the new container prison on Lesvos, close to Moria.
"We call it the 'Pagani of the Troika', because this is exactly what it is: a Pagani financed by EU money, a Pagani that is wanted by a restrictive European migration regime." Says Welcome to Europe. Mayor Galinos exactly follows this line: he publicly announced his will to close down a self-organised space, where thousands of people have been welcomed at the gates of Europe. He makes clear that he is willing to fulfil the dictate of Europe's migration policy that seeks to make it as hard as possible for refugees to reach a safe place.
With the closure of Pikpa Mayor Galinos has decided to destroy a space in which, since 2012, many volunteers are working hard to give newly arriving refugees what they need the most: a warm welcome and a respectful atmosphere to host them in safety. They have created a space that is more than just a roof over peoples' heads. It is a space that allows for the freedom to prepare the next steps of their difficult journeys towards their final destination.
Since October 2013 we collectively organized twice a journey back to the border. We returned to give back what we had ourselves received: the solidarity of local people to newcomers. When we were there in August 2014 we met a lot of newcomers who left with the words: "When I will be settled I will come back and do the same." They will remember Lesvos as the place where they were welcomed for the first time during their difficult escape.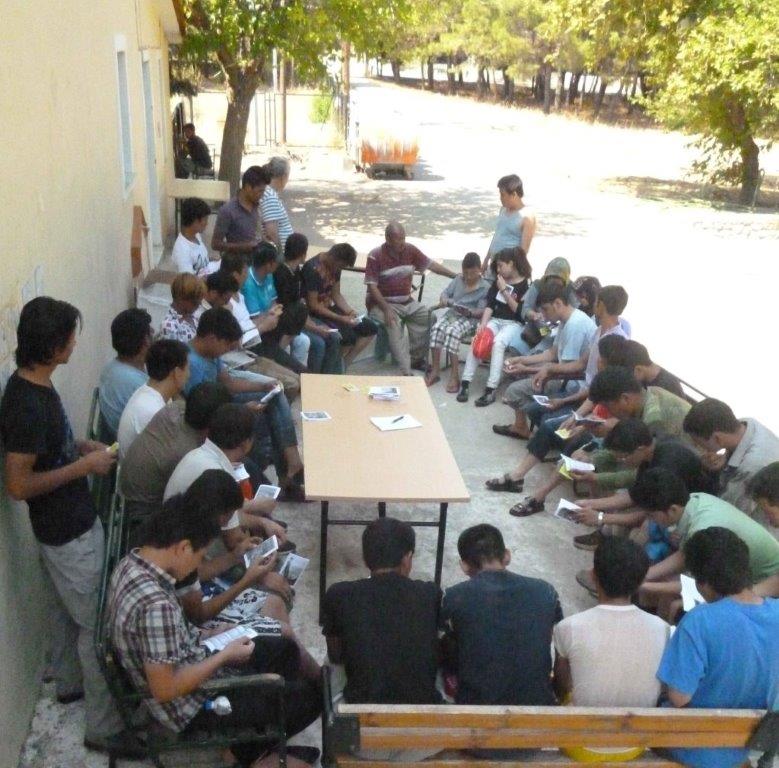 This is only possible because a space for this practice of welcoming exists, a space that shows that it is possible to host refugees. If there were an independent office doing the registration in Mitilini, the people could just continue with their travels within one day.
Lesvos as an island has the chance to be known as a place of welcome and not as the place of a new prison for refugees. Detention and pre-removal centres, however you want to name these prisons, are not needed, they only serve the European policies of deterrence.
We just say: welcome to Europe! Pikpa is, in the best sense, a light-house for us. We need spaces of welcome and solidarity at all European borders. Close down the prisons.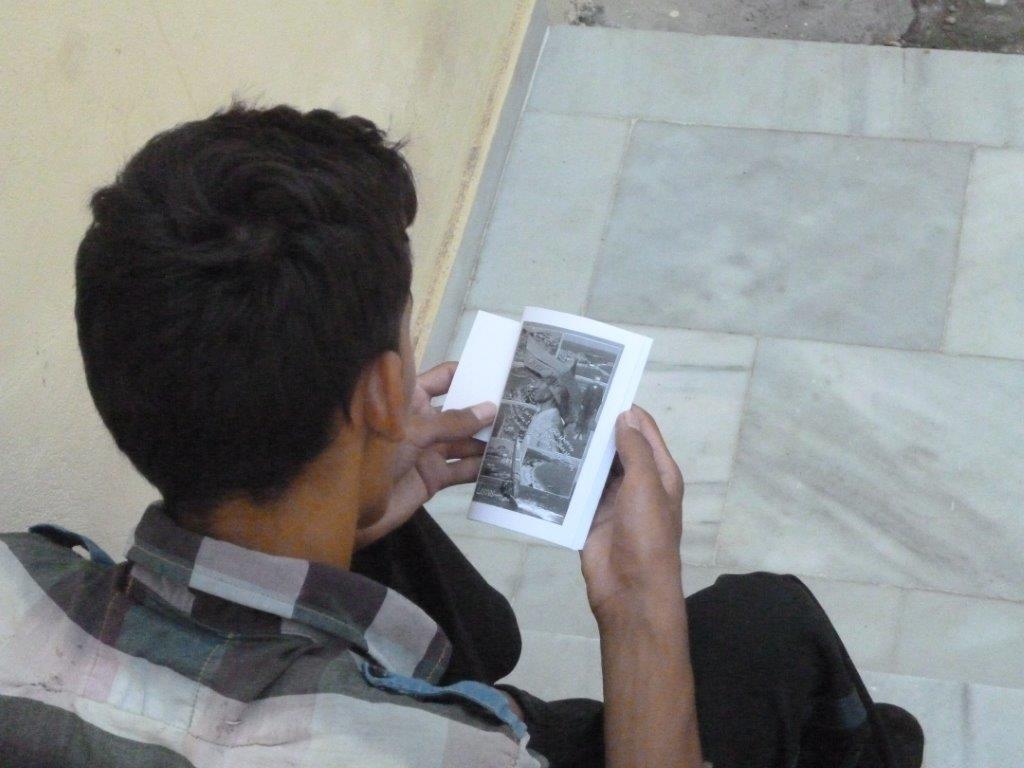 Attached you will find a letter to the friends of the village of all together that we wrote after our journey to Lesvos in August.
*********************
Letter to the friends of 'The village of All Together'
Dear friends of 'The village of All Together',
first of all we would like to thank you many times for having started this wonderful idea of a solidarity welcome center! You run Pikpa now since 2012 already – which is an incredible long time, especially if we see what your challenges are every day! We came already in October last year and now once again in August with even more people to this island, one of the gates for refugees to Europe. Many of us came via Greece to Europe years ago and know by their own experience what the newcomers had to overcome and survive until they arrive here. We cannot express with words what it means to us that you try to create a welcoming space for them. When we came some of us had the good luck to be welcomed by the nobordercamp in 2009 but most of us have been only "welcomed" in Europe with police and prisons. Also later on, after our release nobody has been there to assist us to find our way to Athens, the next "station" of this journey and further on. It touches our hearts that you created a space of welcoming and hospitality – it is needed and the only possible option to overcome these inhuman borders.
We came back here to Mitilini to encourage and welcome the newcomers and to assist them on their further way. The last days have been a great experience for us. It was possible for us to meet and talk with hundreds of newly arriving refugees and to provide them with information, contacts in various European countries and to give them hope. This was possible ecause there was the space for them and us to meet in Pikpa before they have been brought to be registered by the police even. We had the chance to spread as many information as possible even before. We gathered useful information in a guide (see: http://w2eu.info/pritings.en.html). We distributed them in English, Farsi and Arabic. And we would like to offer you to leave copies here and could promise to update it every year. We have been especially impressed by the incredible work the translators did every day in Pikpa. As many of us have experience in translating we have to say that this is very exhausting in a situation like I We also said farewell to many of the newcomers in the harbour of Mitilini – and they have been more than happy to be surrounded by you and us.
Nevertheless there have been also sad moments for us. We would like to share some thoughts about it with you as long as some of us are still on the island. We know very well that for most of us it is only a short period of time to be here, but some of us are anyway part of your structures and we would like to contribute to your great effort to support refugees on this gate to Europe. The sad moments are related to the situation that people will not only face a situation like in Pikpa, but they will be also confronted with coast guards, police and Frontex.
The coast guard entered daily Pikpa with the buses to take the people to the prison in Moria to register them, and in the same moment also to do a so called screening to sort out all those people they want to keep longer time in prison. Many of us know the Greek prisons. Some of us have been only recently freed from prisons on the Greek mainland after having spent many months there – without any other reason than being a refugee. We came here with one main aim: to overcome this system of prisons. We are more than sad to see that nothing has been learnt from the past and that after the closure of Pagani we see on this island a new prison for refugees.
Like many of you we are especially worried about the situation of having Pikpa used by the Coast Guard as a space to "store" newly arriving refugees there before they are brought into prison for registration – without medical treatment and for an unknown timeperiod, some already stayed for nearly one week here until the coast guard came to pick them. Like you we still say: Pikpa is an open and self organised welcome center and not a space for the police. Our impression was that the people understand very well what makes the difference.
We demand to do the registration without detention. The example of Pikpa shows that this is possible. We have seen the so called "Reception Centre" in Moria with our own eyes and we all know that it had nothing to do with reception but with imprisoning, degrading and selecting human beings. It would be only logical to just let the people freely go to any office for a simple registration to let them continue their journey to Athens as soon as possible. The few people who wish to apply for asylum already here on this island could be hosted much more easily and with fewer expenses. The new Pagani of the Troika has cost more than 3 Million of Euros and it obviously cannot be used because it was just forgotten that hundreds of people should be able to go to the toilet or take a shower while they are kept there. The place for registration cannot be in Moria. And it cannot be in Pikpa, because this is not the space of the Coast Guard the police or Frontex. The people would go out of their own interest to do the registration to board finally the ferries to Athens after a few hours of rest.
We hope that you will have the energy to enforce that Pikpa remains and will be established as a space of welcome – and to stop the police from taking over the space.
Pikpa is an important symbol of solidarity – and in the last ten days we have seen hundreds of newly arriving refugees who made an experience of being welcomed. We wish you and us together all strength and a long breath! You can always count on our support.
Welcome to Europe and Youth without Borders
August 2014