Follow us on Twitter
Tonight in the Port of Mitilini after the ELeftherios Venizelos left,
refugees sleep in front of the ticket offices, hoping to get on the next
boat.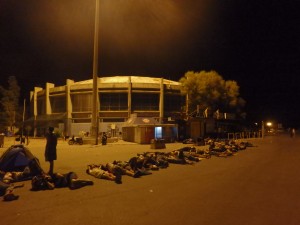 This people mostly Syrians and Afghans need human treatment and protection.
The European Union has to react and send immediately the needed help .
Tents, food, water supplies are not so difficult to organize
immediately.What are they waiting for? or does the european union maybe
want all this people to stay under such conditions in greece not to have
them at their central european countries?
Why did the Eleftherios Venizelos change suddenly its route and instead
of going to Thessaloniki and bring like planned the refugees with buses
till the Macedonian border it turned and goes to Pireus?
can it be that the pressure made to the greek government by the european
union is so strong to turn big boats?
The solution to bring the refugees to the nearest point of their
destination, was great. It is clear hat they want to get to other
european countries.