It is Sunday. For at least two nights no refugee was seen during night sleeping in the port of Mytilene. Today there are again about 100 persons from Afghanistan and Syria mainly but also from Somalia, Ethiopia, Sudan and other countries.
"We spent five nights in the detention center in Moria," they say. "It was specifically over crowded at the outside area where we were in the beginning."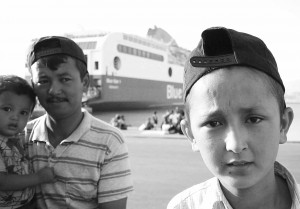 Everybody is stressed to leave. A handful of families didn't know they had to get tickets for their babies too even if they were for free. While trying to enter the ferry they were send back to the ticket office. The mothers had already entered with the other children and were not reachable. Two Syrian dads and one Afghan holding all small babies stand beside the ticket shop not knowing what to do. Their women have the documents of the children inside the boat. Only in the last minutes and after discussions with the ticket office they manage to solve the problem and run in the ferry.
A group of kurdish Syrian men is standing aside. They are angry.
"I want to ask you what we can do. In the morning an officer came on a motor bike. He parked and came over to the place we were sleeping on the street. Then he kicked this 16-year-old who is traveling alone twice and shouted 'stand up'. We are no animals! If we had more time we would go to report this at the police station. We are not afraid, we have honor. We want you to publish this somewhere. The number of the motor bike was MTZ 415. It was around 5:30 in the morning of Sunday 2.8.15. Thank you."