Two days between Kara Tepe tent camp and the port of Mytilene (24.7.-25.7.15)
A small Afghan boy is sitting outside a blue tent built up just behind the kiosk in the port of Mytilene. On the other side of the tent there are some other Afghan minors sitting on a blanket on the floor and leaning at the walls of an abandoned swimming hall. It is late in the night. His elder brother has fever. He is climbing out of the tent to join us. The two underage boys from Afghanistan are camping there already since four nights. They arrived to Lesvos together with their mother and father and two little sisters. In Moria they registered themselves as adults, as other people advised them to avoid reporting their real ages for the own good. Then the two of them got released alone.
"We fear to loose track of our family if we move away from here," F. the elder brother says. "My father said we should wait here for them." He seems exhausted and under pressure carrying all the responsibility of holding his family together on his small shoulders. With an official note ordering them to leave the country within 30 days, both boys' time is running out, while they wait for their relatives. "My father said they would be released today. Again they didn't let them go. Others were only one night in there. I don't understand why they don't let them free."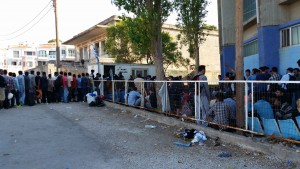 A group of activists from the Christian Peacemakers is visiting the two minors twice a day in the port and tries to support them in what they wish most: to reunite with their family.
The next morning around 6 o'clock and only some meters further away from the tent of the two boys hundreds of refugees queue in front of the little van from the coast guard parked next to the swimming hall in the port. An area of approx. 40m2 is fenced provisory to keep control of the people waiting. An officer is shouting rudely on the people. "Sit down. Go back. Go back. It's not good here? Then go back to Turkey!" Every now and then a bus comes and takes the ones registered away. There were already three busses and still people queue. New people arrive constantly. The procedure continues for hours.
Just around the corner around 200 people are waiting to buy a ticket for the ferry. Everyone is trying to find out what the ticket costs, how long the boat will take to Athens and where to go next. On the other side of the abandoned swimming hall one can still find a few tents. Some days ago, refugees had build a small tent village just bellow the statue at the rims of the port. Wet clothes were hanging next to the tents to dry under the sun. They disappeared only for new ones to appear slowly and one by one.
Near the ticket office an Afghan mother is washing her baby at a public water tap. A hand full of families with small children and babies sit on the ground and watch the ferry arriving. Aside another family is standing in a corner, desperate to find some Euros to be able to leave from the island.
"We don't have any money left. Western Union is closed. We don't know what to do. My baby is only four months old. We slept in the cold without blankets so she got sick. We didn't eat since two days when we got released. One shop gave as two pieces of bread as they saw our difficult situation. What should we do?"
The family arrived a few days ago on the island. Similar to most others they also walked more than 40 kilometers to the city to register with the coast guard. Then they spent five days in Kara Tepe tent camp and one night in Moria detention center.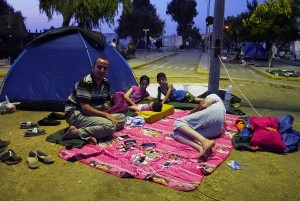 Nowadays in Kara Tepe there are only people from Syria. The police is transferring all others to Moria. There are many families and single men on the former.
"Look, there is a scorpion." A young man points to the dead animal in the sand just next to his tent. "How can I sleep here? It's filthy, there are so many people… I can't sleep here. We stayed all night awake." He looks tired and angry. "We just escaped war. I faced death dozens of times."
Just a few meters away from him yesterday a 45 old Syrian collapsed. The Ambulance came and took him to the hospital but he died already during his transfer to hospital. The medical cause of his death is not yet clear, but one thing is obvious, that the lack of medical aid in the provisory tent camp but also in Moria has fatal consequences. The man is the second within a few days, who died due to the absence of any reception system newly arriving refugees currently face in the Aegean.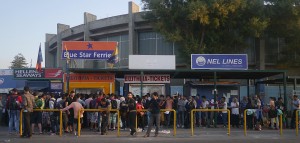 Again today hundreds of people arrive on the island. Amongst others, the Greek coast guard in cooperation with a Norwegian Frontex vessel arrested 79 persons in two dinghies near the coast of the island.
"The Greek coast guard almost killed us," T. from Syria says. The young man is angry. He has escaped from death in Syria just to risk his life again on his route to safety. "I knew what I would face. I know the way to Europe is very difficult and dangerous." Still he didn't expect that Greek coast guard would put their lives at risk. "We were 54 people in a dinghy of 9 meters. There were seven children on board plus a pregnant woman in the eighth month. We started in the night around 1 o'clock from the Turkish coast. After about one hour driving we understood there was another boat driving around us in the dark. Suddenly it appeared from our back turned its flood lights on and an officers shouted in Greek language something through the loudspeakers. We didn't stop because we knew if we stop and they would maybe force us to return. After 10 minutes of driving a second smaller boat appeared besides our dinghy. The officers on board were wearing red uniforms. On of the six officers shouted in English we should stop our boat. Another was taking fotos of us. Then the boat turned away and the bigger one from the back got closed. They took a long metal stick and tried to beat the person who was driving the boat with it. Then they puncture our boat and it sank suddenly. We all fell in the sea. They were watching us fighting for our lives in the sea without helping for 15 minutes. The women were crying. We were all afraid. We could still see the second boat in a distance. They didn't take any fotos while the others punctured our boat, but they now returned and took fotos from us in the sea. Then the officers on the first boat took us on board one by one. The pulled us from our clothes up and pushed us on deck. Many of us hurt themselves and some got even beaten. They through some of our bags in the sea. People lost their documents, their medicine and clothes. One of us had 2000 Dollars in his bag. It was a white boat and the officers were not masked. I believe it was our luck, because they say if the masked ones catch you, they will not only ill-treat and steal you but they will puncture your boat and leave you behind in the sea without help." T. is stressed. He wants to find a way to get his fathers telephone number to inform him that he is alive. "I saved the number in my phone, but when we fell in the sea it broke." His walked to Mytilene to find a hat for the sun and a solution for his phone which isn't working. "We are living under terrible conditions in the camp. I had to buy a tent for 30 Euros because I couldn't stay in this place. I asked the police for permit to take a hotel, but they said it was forbidden as long I wasn't registered. I hope they register us today so that we can leave to Athens. It is not bearable to stay longer in this camp. We will get sick there for sure."

In the night more and more refugees reach the port of Lesvos. They were just released from Moria and left to walk to the city by themselves – most of them in the middle of the night. Among them are women, children, babies, unaccompanied minors, elderly…. There are a few tents near the seaside and dozens of people sleeping inside and next to them. Mothers hold their 3-6 months old babies in their arms to protect them from the cold. In the shadows of the passenger terminal for the Turkey passengers hundreds of people sleep crunched next to each other while a few remain awake to guard their families and friends. The whole port is full of refugees. Everywhere: on the banks, near the sea, around the statue on the ground… people are sleeping. Around 600 persons take the ship the next morning and again dozens have arrived newly to queue in front of the coast guards little van.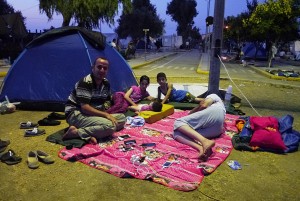 Syrian families have crunched together to warm each other in the night[/caption] The two little brothers from Afghanistan still wait. They could be finally convinced to move away from their tent in the port to the open welcome center PIKPA, run by activists of the solidarity group "Village of All Together" in order to be more protected and taken care of. It remains unclear when their family will be finally allowed to join them.