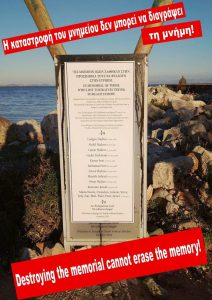 On Friday, 11th of August 2018 some vandals completely destroyed the memorial for the dead at the European borders on Lesvos.
It was standing since October 2013 in Thermi next to the fishermens club. Reminding the death of people fleeing war and trying to reach safety in Europe. The memorial was set up also to thank the fishermen who risk their lives in saving people in the sea and collecting dead bodies. We went there once a year since then, together with survivors and friends.
We are disgusted by the brutality of those destroying the memorial now for the third time and their missing respect to dead humans and the fishermen.
We will reinstall the names and dates in this place. It is not possible through acts of violence to erase the facts and the memory to the dead.
We will continue welcoming people who arrive seeking safety. We will continue to finally tear down the borders and to build another, a welcoming Europe.
W2eu
Memorial October 2017 in Thermi:
Memorial in April 2018 in Skala Sikaminias:
http://infomobile.w2eu.net/2018/05/02/memorial-24th-of-april-2018/