LESVOS: Unaccompanied minors kept in detention for days and transferred to detention in Amigdaleza with plastic handcuffs
On Tuesday 19th of August 2014 we became witnesses when the police transferred 36 unaccompanied minors from Moria "first reception" detention centre in Mytilene, Lesvos Island to the port and on the ferry heading to Athens as some of us were travelling the same day. The children and teenagers – some of which are merely older than 13 years – were handcuffed (with plastic wire straps) and guarded by dozens of uniformed officers and civil police. On the first sight we thought that we would be travelling with penal detainees being transferred to Chios prison. Only on the second sight we recognized minors we had met a few days ago in PIKPA and then again in Moria during our days of action on the island. They were not even allowed to take of the handcuffs when going to the toilette!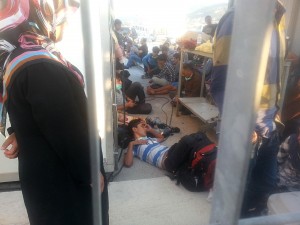 Unaccompanied children upon arrival to Greece are afraid to say the truth about their age. They are so afraid to suffer more days in detention that they often declare themselves as adults neglecting all the possible negative consequences this decision might have in long term. The boys who were transferred to Athens on the 18th said the truth about their young age. It seems like they are being punished for that. And even more, it seems that the newly arriving are deterred from registering as minors when observing what happens to the others or listening to their stories.
These days hundreds of refugees have arrived on Lesvos island. Moria detention centre has been filled – also with unaccompanied minors. Due to high numbers in arrivals adult refugees are being released within a few days, while the few unaccompanied minors who register as such have to stay behind the barbed wire and wait for a place in a specialised open reception centre.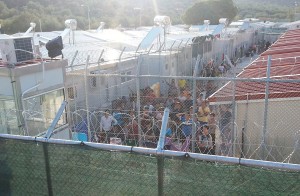 The day before yesterday the 36 unaccompanied minors were brought like prisoners into the ferry. Yesterday they most probably arrived to Amigdaleza detention centre for minors in Athens. With the words "We don't want food. We want freedom!" they had been peacefully protesting in Moria against detention. Some of them were locked up more than three weeks under miserable conditions. Now they are in a real prison for minors. Only one month ago (17.7.14) a 17-year-old Afghan out of despair self-injured himself in Moria detention centre. He was struggling for his freedom. Also elsewhere in Greece like in Samos island dozens of unaccompanied minors are held for weeks before they are send to open reception centres for children. Yet their voices are seldom heard as contact to the inside of the detention centres is not existent for the civil society.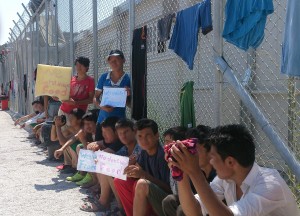 • We demand the immediate release of all children and teenagers from Amigdaleza, Moria, Samos and any other detention centre! Freedom to all!
• We demand child appropriate treatment and protection instead of (re-)traumatising procedures! No police guards for children! No handcuffs on children! No children in prison!
• We demand for the opening of more specialised open camps for child refugees!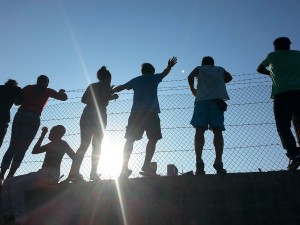 Welcome to Europe | Youth Without Borders
Email: contact@w2eu.info