No to a new Pagani!
Yes to real Welcome Center!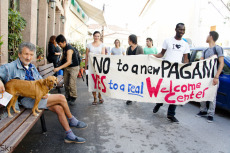 We are returning to the island of Lesvos four years after the succesful struggle to close Pagani. We are here to demonstrate against the new detention centre near the village of Moria, with the support of local and international activists. Migration is not a crime! We were in the detention centre of Pagani and we don't want anybody else to have the same experience. The new detention centre will imprison up to 700 people for up to 18 months. The experience of an open centre such as the one in Pikpa shows that it is possible to register and welcome refugees without detention. The EU is wasting money on building new prisons and turning Europe into a big fortress.
Close the new detention centre! No to a new Pagani of the Troika!
Yes to a REAL welcome centre such as Pikpa! Yes to solidarity with migrants and refugees!
The Refugees Returning to Lesvos
Village of All Together
Welcome2Europe (lesvos.w2eu.net)
Youth Without Borders (www.jogspace.net)