Mitilini, Greece
SCREENED BY FRONTEX AFTER TEN HOURS IN THE SEA:
Forgery of documents – who does it and how?
In the early morning of the 15th of September 2013 twelve refugees from Syria were rescued by the fisher boat Kapetan Stratis and the cargo ship YALKER (see earlier post). After this rescue operation and act of humanitarian support a vessel of the Greek Coast Guard took the rescued people in order to bring them to the Port of Mytilene (Lesvos). Local media took pictures, a video was uploaded on youtube. The Coast Guard utilised the brave work of the sailors to present themselves as life savers.
This was only the image for the public: After the "photo shooting" the refugees went through the so called "screening" of the European Border Agency FRONTEX. The authorities instead of calling a trauma therapist or first aid for the exhausted survivors who had been nine hours swimming in the sea not knowing if they would survive, brought them to FRONTEX. Even the first food in Greece was given to the hungry by supporters from the island. The foreign officers operating with EU-funds on the Turkish-Greek border interviewed the survivors immediately to find out the "real nationalities". The so called "screening" is a tool to check the identity of refugees and migrants which has been criticised on several levels by a lot of human rights supporters like i.e. the German NGO Pro Asyl. To use this tool directly after a case of heavy trauma comes indeed close to torture.
To give an example of this kind of inhuman behaviour we report what we heard from two of the refugees. One of them was not able to swim and was held by other refugees above the water level. Even three days after one could see the injuries on his throat and legs that came from the heroic live saving measures of the others (see photo below). A German psychologist and trauma therapist supported them upon release from the Coast Guard.
His diagnosis is clear: They suffer from Post traumatic Stress Reaction (ICD10, F 43.0). Nevertheless, both were put under pressure brutally by the FRONTEX officer and his translator. He shouted on them, they were threatened with 6 to 12 months imprisonment as a penalty for "forgery of documents". The translator tried to force them to sign that they are not from Syria .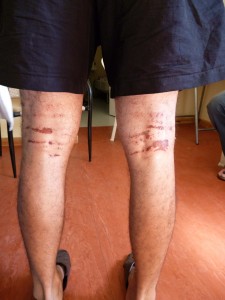 Instead of giving them documents to continue their journey together with the other ten traumatized refugees, these two victims of the "Screening" were imprisoned by the Greek authorities with the aim to deport them . Everything other than giving them papers and freedom is an act of disrespect to and violation of their human rights.
These people need support, no prison!
We demand the immediate release of Sami and Wahid, survivors of the ship accident of the 15th September 2013 near Lesvos!
w2eu – welcome to europe