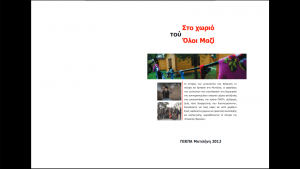 The stories of the migrants who crossed the border and arrived in Mytilini and the stories of people from Mytilini who were involved in the self-organised and open space of reception in former PIKPA.
Life stories so different that they cross and get interwoven for a few days and then separate again, bring together spaces and practices of co-existence and solidarity while challenging the borders of "Fortress Europe".
p.s. soon to be published also in English
Οι ιστορίες των μεταναστών που διέσχισαν τα σύνορα και έφτασαν στη Μυτιλήνη, οι αφηγήσεις των μυτιλινιών που ενεπλάκησαν στη δημιουργία του αυτοοργανωμένου και ανοιχτού χώρου φιλοξενίας στις εγκαταστάσεις του πρώην ΠΙΚΠΑ.
Διαδρομές ζωής τόσο διαφορετικές που διασταυρώνονται, διαπλέκονται για λίγες μέρες και μετά χωρίζουν ξανά, υφαίνοντας χώρους και πρακτικές συνύπαρξης και αλληλεγγύης, αμφισβητώντας τα σύνορα της "Ευρώπης Φρούριο".